Synthetic Turf Installation Services for West Palm Beach Residents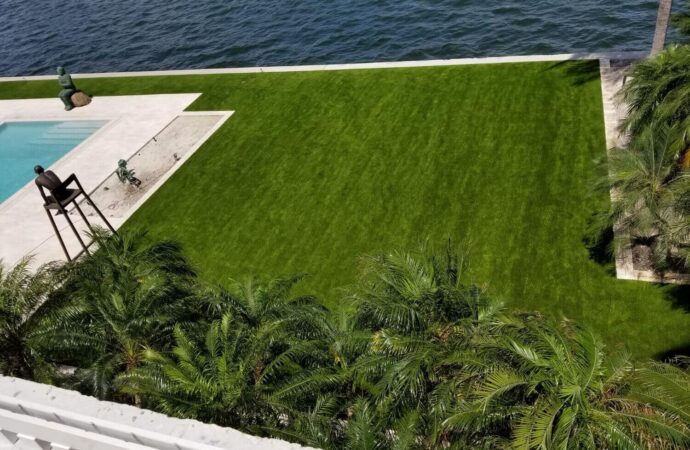 West Palm Beach's beauty can be found in the contrast between the green turf and the natural areas: parks, squares, and beaches. Synthetic Turf Team of Wellington has contributed to the beauty of the city by providing high-quality services for artificial turf installation and synthetic grass over the past eight years, and we're happy to continue offering our solutions so all businesses, homeowners, and just residents in the area can have their piece of green whenever they need it.
We want people to be able to save time and money on turf and grass care. For this reason, synthetic turf is preferred over the real thing. It doesn't require as much watering and zero fertilizers and requires very little maintenance.
Contrary to popular belief, many parks, patios, and green spaces in the city and all over Florida aren't covered with natural grass. Instead, they are partially artificial. It is only a matter of time before people realize how much they can contribute to the environment by getting rid of natural grass or turf in areas where watering them takes a lot of resources that can be used for better purposes as the real thing doesn't really have a contribution to earth-friendliness.
Our goal is to offer all options so that artificial golf turf installation can be made as well so golf courses will stop being part of the place where water is used the most. When using this synthetic option, you can confirm that it is safe, soft, and affordable for both its owners and users.
This Is Where Our Contribution Begins
We can provide guidance and recommendations on which type of turf would be best for your project and space. However, not everyone will need artificial turf installation. You can rely on us to solve any problems and provide maintenance services if you're eligible and have already installed grass and turf and just need post-installation services over the years.
When you call to install your turf, remember that our team will first do the assessment and design. We will inspect your lawn and determine the best products for you.
After the estimate is provided and approved, we will send our team and start working on your space, so the artificial turf is installed.
Once we have understood the project and are able to estimate how long it will take, our team can manage deadlines and timelines, so this is also part of the first visit and what comes when we send you the estimated cost.
Our responsibility doesn't stop there. We provide all the necessary maintenance and repairs to keep your synthetic turf looking great year-round. Even if your turf or grass was not installed with us, we are happy to assist you.
We Are Here to Assist You
Contact us to let us know that you're from Westlake, and we will send our experts to get started on your project.
The first assessment visit is completely free. You are not required to accept our service once we have given you an estimate based on your needs and what you want.
Below is our list of additional services: