Artificial Golf Turf Installation Services for Wellington Residents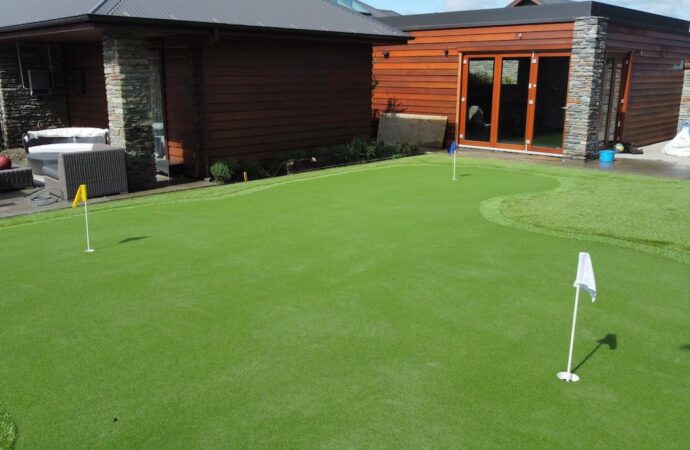 It can be difficult to maintain golf courses. This is not just because of all the holes you need to keep clean but also because of the most basic yet crucial part of them: the turf. Natural turf is expensive, difficult to maintain, and requires a lot of watering. However, those living in Wellington or surrounding areas have an alternative: artificial golf turf.
Synthetic Turf Team of Wellington has worked with many companies and golf course owners who needed this artificial option to lower costs, save time and ensure that their areas are ready for use every day.
Contrary to popular belief, golf courses are not completely covered with natural grass or turf. Artificial turf is an excellent option as it reduces watering and maintenance time while also helping the planet by saving natural resources.
It is crucial to select the best artificial golf turf for your needs whatsoever. For any Florida golf course to be successful, the following are essential requirements:
Heat block.

High-quality fibers—what make the turf possible—must be made from nylon or polyethylene.

Earth and pet-friendliness.

Comfortable and low maintenance.
All of our products are made from top-quality materials, and we guarantee that they meet all the standards for playing golf. We also offer features to help players improve their game.
How Much Does Artificial Golf Turf Cost?
Prices vary depending on the specific type chosen for the space, but it all depends on its size as well, since the larger, the more expensive it is.
Although we don't mean to deny that this artificial option can be installed at a low cost, it does depend on the size of the course and the space and areas where it is needed, and, finally, the quality of the turf chosen.
The quality of the product influences the prices, and instead of offering a cost based on the entire project, it is easier to go over prices per square foot.
On average, artificial turf can cost between $5 to $19, but this doesn't include artificial golf turf in specific. The latter's price can be a bit higher but remains within a similar range that goes up to $21 at most.
You don't have to go for the expensive one most of the time, but it is rather a choice based on the client's needs and what they are willing to pay for the green surface.
On the other hand, it isn't costly because it pays for itself. When natural turf is present on golf courses, it requires a lot more watering. Management and administration often spend a lot of money to water them and just tend to every square foot of the area.
Artificial golf turf can be watered every other week or once a week if you want to keep its maintenance low yet a bit more than what most people do. Some new technologies can even be watered every three weeks and won't require additional tending.
You don't have to maintain or tend to each area. Instead, you can use your resources and people to focus on other activities to provide better service both inside and outside the course.
You can save water and make more money by having fewer people tend to your grass.
It is a matter of considering how much you're saving in such a large area like a golf course and how you will be able to get some ROI thanks to all the money you don't have to spend on watering and regular maintenance or fertilizers.

Our Service for Large & Official Golf Courses
Artificial golf turf can be installed wherever it is required, requested, or desired.
One of our services is putting greens. We can help people create special areas on their properties or patios to practice their game and improve it. Artificial golf turf is a natural choice for those projects, and it isn't only meant for golf courses, but it is indeed where it is needed the most.
Artificial golf turf was created to provide the same experience as natural grass and allows players to enjoy the game without any problems.
The quality of the turf is an important factor in the sport and the experience. It is crucial to understand the difference between regular synthetic turf and that used for golfing.
Artificial golf turf is frequently requested by businesses and homeowners who want to add a hole or mini-golf course to their greens. This turf is also popular for its aesthetic benefits.
We want to let you know that we won't turn down your request. You can have our turf installed in your yard, patio, or garden, even if it's not for a golf course.
But What Is Artificial Golf Turf Exactly?
You can consider it a different type of synthetic turf that works well for golf courses or similar areas or places with the same purposes since it imitates the same grass that is needed in them. The grassy feel or the fresh look, everything can be achieved with it.
It is a great option for a clean and beautiful game and will be a good addition to any golf course, regardless of its size.
This artificial option is resistant to all weather conditions. You won't need to worry about natural disasters and storms, and we are making sure this is clear because it has been repeatedly asked whether the turf will "fly away." The answer is a 'no' unless it needs to deal with catastrophes. In the worst case, we can provide some warranty for this damage.
Each piece is non-toxic, eco-friendly, and pet-friendly. Your children can come along and play with you in safe areas. The surface will even offer impact reduction so that their little accidents and falls won't be as severe as if they were on natural grass.
Ask our team for details and more information about this turf based on your preferences and needs. We'll take the time to explain our expertise and help you choose the best one for your situation and location.
Below is our list of additional services: