Residential Synthetic Turf Installation Services for Wellington Residents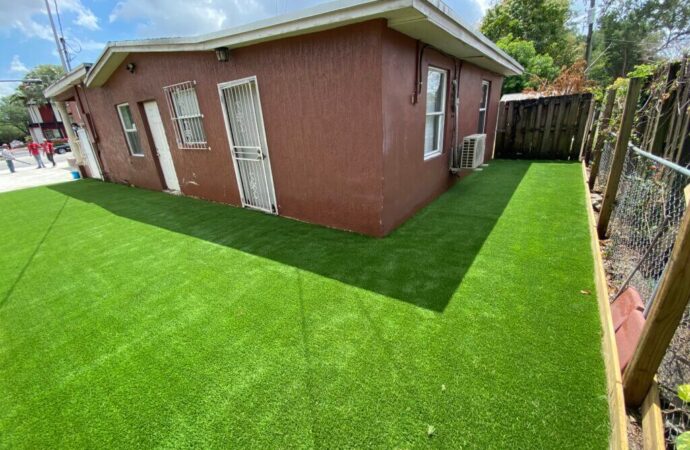 A patio or yard is a great way to connect with nature and enjoy life. Synthetic Turf Team of Wellington can help you create a unique green space in your home or residential property that everyone will envy, and you'll be able to enjoy almost all year round with Florida's weather. We offer residential synthetic turf installation for this purpose mainly, which will allow you to have a surface that looks great, feels like real grass and supports all your activities and high volume of foot traffic or brute force from your children and pets.
Synthetic grass is most often used for residential purposes. However, it all depends on what your space will be used for. For example, your children might play there, your pets may run around, or you might host events that require a lot of foot traffic.
Synthetic turf is better for the latter situations because it provides more resistance, better support, and durability for higher-impact activities. Your patio or green space will also look great after many years of use.
We know many people think that a garden is impossible because they are unable to dig through the synthetic turf. This can be resolved if you ask during installation or have pieces cut so your plant can be planted or put in place as you wish.
Our team will design the perfect space for you. We will also install synthetic turf where needed and leave it "empty" in the spaces you wish to use for other purposes.
Synthetic Turf Is Worth It Even if You Do Not Have Plans for It
Artificial turf is a great choice for homeowners and residents who don't think they will use their green areas often or haven't yet identified a purpose and what they can do with them beyond spending some time taking the sun or getting some fresh air.
Still, many benefits come from the simple use of artificial turf, and it is possible to avoid common problems with the natural alternative, such as:
Regular watering.

High maintenance.

Areas or holes that are damaged.

Insects, bugs.

There is dirt and mud everywhere.

You are unable to allow your pets or children to play all day without being concerned about heat and surface.
The artificial option is a way to save time and money in the long term. You will also have the space available for any future activity or plans you come up with and want to have on your patio without issues.
It can be more expensive than you think, but it will pay off. Your water bill will be lower, your maintenance costs will be lower, and you won't need to maintain it every day, as watering it once or twice a month is enough. You can still rely on it for a beautiful, fresh appearance, even if it is forgotten about.
We love to help homeowners navigate the process and explain all benefits. It is an excellent option to have the turf installed if your goal is to sell your property as well since it adds value and offers great longevity, even if it takes a couple of months to find a buyer.
There are many options for artificial grass and turf, so you don't need to only choose the most expensive. Synthetic turf technology has advanced over the years, and our Synthetic Turf Team of Wellington is concerned about products and options that are:
Earth-friendly and pet-friendly

Affordable.

Made with top-quality products

Ideal for any occasion or project.
We want to make sure every type available in our company is at least good for all spaces, and we don't stand with "decent" as this often includes chemicals and toxic materials used for the turf available.
This takes us to a big difference: we work in manufacturing over 75% of our products, and if we don't have it, our providers and partners with the same standards and regulations will gladly provide us with the top quality we are looking for and work hard to maintain.
Do You Need a Large Space to Have It Installed?
Not at all. No minimum requirements are established to have artificial turf installed in any size area. 
Our team will evaluate the area and determine the best type and design of turf for you. Once that is done, we'll take all the necessary steps to complete the installation.
Prices and timelines will vary depending on previous information. We will give you an estimate before we start working with your property or green area.

Even though you don't require a lot of space to have synthetic turf, it is worth considering that it takes more time to complete the task the larger your space is.
It takes about a day to complete small spaces. However, it is possible to do medium-sized areas in a single day, depending on how accurate the measurements are and the design of your landscape.
Large-scale projects take 2 to 3 working days on average. Properties with more than 1,000 square feet may extend the timeline by up to 4 days. We are flexible as some clients may need the work completed in a shorter time.
We appreciate your patience and will adjust our team to accommodate you.
Homeowners Can Use the Green Area as they Wish To
Synthetic turf is stronger and can withstand high-impact activities. It also supports a higher volume of foot traffic. This means that you can host a variety of events in the area. 
You can do whatever you like with the space, including letting your kids run around and letting your dogs play while they try digging your turf as usual.
Although it may differ from other types of artificial turf, we will ensure that the one installed comes with shock reduction and resistance against most common activities.
While we can offer better options if you give us more information about the activities that you do in your yard or patio, our synthetic turf is perfect for everyday use, and they are very affordable.
Contact our team to have your area designed, turf installed, and maintained by our professionals.
Below is our list of additional services: