Pet Turf Installation Services for Wellington Residents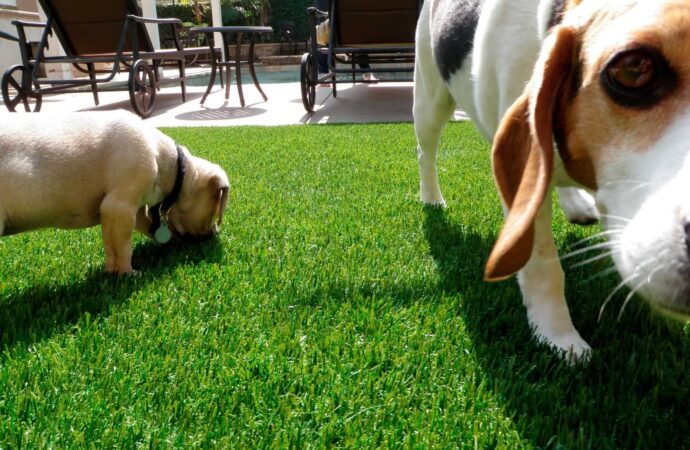 It can be costly to let your pet run wild and allow them to explore the yard when you know how much time it took to have all the grass and turf clean, neat, and properly maintained. The mud on their paws and any insects they pick up from the grass can cause problems and increase the amount of work required as well, but with taking care of them in this case. Synthetic Turf Team of Wellington can handle pet turf installation in your yard or patio to create a new adventure for your pets and reduce the amount of work you have.
We want to make sure you have the best turf available so your pet can run all day or even take a break on your patio whenever it wants to, considering that the heat is often an issue, but not with our options and products available.
Our pet turf offers heat block, liquid drainage, and the softness of natural grass. Dogs won't notice any difference when running and lying down. Additionally, you won't have to worry about their digging since this will be made impossible by the way the artificial turf was designed.
Before you decide to install the turf, it is important that you consider your pets and the activities you plan to do in the area since the turf's quality, longevity, and durability vary depending on the type chosen.
Although some pet turf is superior to the standard on the market, it can be more costly, and some owners may prefer to keep their regular pet turf due to their pets' needs and preferences.
Our recommendation is to assess the area and determine your needs. Then, choose the best turf for you based on your budget but without forgetting about your actual needs and how much money you can save, thanks to making the right choice.
Will It Take Long To Have Your Pets Running After Installation?
The space will be ready for them in a matter of hours or a few days at most. 
It doesn't make any difference installing any of the types of pet turf available since the installation is the same. The average time for it will vary depending upon the size of your worksite. However, the estimate is the same as any synthetic turf: 1 to 3 days.
A day or even half-day is sufficient for small spaces or patios. Medium-sized spaces can take up to two days, while larger areas will require three days.
Once we have completed the assessment of the area, taken measurements, and finished the landscape design, we will be able to give you a time frame. It's not just about placing pet turf pieces but also creating a beautiful area that is functional and pet-friendly.
The estimated time for your pet turf installation can be reduced if you have some requirements and deadlines to meet, but we will need to know before we assign our team, which is right when we meet you or when the estimate is being provided by our staff.
Pet Turf Can Be Installed in All Green Areas
You can trust us if you are trying to obtain it for your personal use and for the enjoyment of your pets. Synthetic Turf Team of Wellington can handle both residential and commercial projects, which means that besides residential properties, we can work with parks, businesses, or pet-friendly spaces.
Many of our clients have had it installed in their dog parks, in their offices—outdoor areas of them—for customers or employees, as well as in larger spaces like public parks in Wellington or its surrounding areas.
This challenge is a great opportunity to see dogs and all pets play without worrying about the heat and how they can be affected by insects or bugs. In addition, you get to enjoy the green area without extra worries.

We focus on meeting different needs for large or complex projects. The turf should last at least ten years, even if pets play on it more often. It is important to use all earth and pet-friendly materials when installing pet turf. This will ensure that they are safe to play on it all day and that everyone is satisfied.
Our team will also provide maintenance and repairs as needed. However, because our products are mainly manufactured by our trusted and qualified industry partners, we feel confident that our services after installation will be minimal.
No matter what, we are always available and willing to help with any project that may arise after your installation whatsoever, so don't hesitate to contact us and request information about what your warranty offers before our team starts or finishes the project if the details provided aren't clear enough.
What Makes Pet Turf Different from Synthetic Turf?
Even though standards and requirements have evolved over time, some products on the market aren't pet-friendly. Several companies still use different products, and not all of them are suitable for pets, such as dogs or cats. In fact, they are toxic and can cause allergies and affect their health.
All of our synthetic turf and grass are pet friendly. This means that animals can feel the sensation without having to worry about potential health issues in the future.
The additional characteristics and benefits that make the pet turf we offer unique are:
Heat block. Even when the sun is at its highest, your dogs can play all day.

Liquid drainage. It will not be necessary to water the areas they use for their needs or if so, the water will drain quite easily.

It requires very little maintenance. Even with pets playing in the area constantly, it requires watering once or twice a month unless you need to clean it from any waste or dirt.

Pet turf is the same as natural turf, so they won't be able to tell the difference.

They can pull, dig and use brute force as much as they like. 
There are many benefits to pet turf, but they vary depending on what type you choose as well. The variables of durability, longevity and other factors can be boosted or maybe reduced.
Our team will ensure that you have all options for your pet and help you choose the right product. We won't make you pay more than you need, and make sure to come up with a design you love, and your pets do as well.
Below is our list of additional services: