Commercial Synthetic Turf Installation Services for Wellington Residents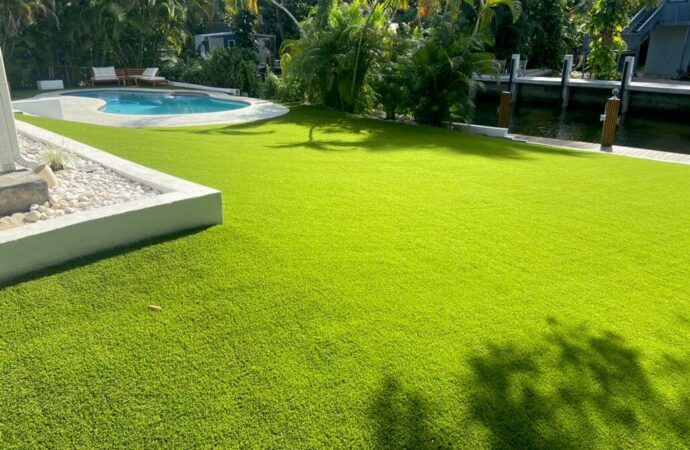 Green space is a great option for customers, employees, and visitors if you are in charge of a company or commercial area that needs a boost or maybe a new addition to keep it. First, it can increase workers' morale, and it can help customers feel more connected to your business and have a better time choosing you over other competitors. Synthetic Turf Team of Wellington can provide you with a variety of artificial turf through our commercial synthetic turf installation service.
Our mission is to ensure that you have green space on your commercial property. This will allow you to avoid having to deal with foot traffic and provide maintenance which can be costly for many businesses.
Synthetic turf has many benefits for all users. It saves money on water and does not require the same maintenance as natural grass. You can get a return on investment in the long-term and have a surface that looks great, is durable, supports your needs, and is neat.
We will need to evaluate your space and determine what you want and need within a budget you establish and see if we can comply with it to the best of our ability. Once you have all the information, we will provide you with insights into the design and how it will look.
We are often asked by companies to install simple artificial turf. However, if you have any concerns about how your garden, patio, or green space looks and what you should do to improve it, we can help, and we will always recommend going over the required details to ensure the type installed will last and handle all the activities and traffic that you're planning to have in the space.
What Is the Cost of Installing Synthetic Turf for Your Business?
It all depends on how large the job site is and what type of materials and products are used. A 100-square-foot average green area can run between $1.000 and $2.000. However, this will depend on your budget as it will also determine the type of turf that you choose to install, or we can recommend around your needs and what you can afford.
Medium-sized areas will see a rise in price to $3.000. Larger areas may see a jump to $4k or $5k.
We understand that it is a significant investment for some businesses, but if you wish or even need this green space, artificial turf is a better investment than natural turf. You can still get a return on your investment while saving money over the long-term and short-term when you notice how little to no maintenance and chemicals it needs.
Natural grass is hard work and needs to be watered at least three times a month. It is well-known that people will spend a lot on their water bills, as well as fertilizers, chemicals, and regular maintenance.
Our synthetic turf requires watering once or twice per month. There are no fertilizers or required chemicals. You won't need to hire many people to maintain it either, as it is only required to be tended to once or twice per week, so very little work is needed, and you can invest your resources in other areas and projects.
How Can You Know Which One Is the Best Synthetic Turf for Your Business?
Our experts will determine this after they have listened to all your answers to the main questions we have:
What is the average number of people who will use the green space?

Are you planning to participate in or plan any high-impact activities (running, jumping, soccer, etc.)?

Is it possible to bring pets into the area, or is it something you want to allow?

Are you looking to build a playground for children or install other equipment?

What are your budget limits?
It is important to know at least half the answers. We will be happy to help you determine them if you have any questions or are unsure about the best way to use the space. The most important aspects we must know are foot traffic, pets, children, and certain activities.
It is important to know how many people will use the green space so that we can choose or provide synthetic turf that is suitable for everyone and so we are able to guarantee your 15-year warranty and all the maintenance or post services.

For playgrounds and how kids play, and other activities with high impact, we can suggest turf that reduces impact and offers additional benefits for those who love to play.
If pets are allowed in the area, you can rest assured that all of our products are pet-friendly. However, some products will be more effective due to the resistance of the grass fiber to their brute force and digging attempts.
These questions and information will help you get a clear picture of what you are looking for, as well as bring the design to your mind, so you are happy with the result. However, there are so many choices on the market and in what we offer that it can be difficult to decide which product is best for you in terms of durability, performance, longevity, and budget, but not impossible.
Synthetic Turf Team of Wellington will help you navigate this process on our first visit. We need to assess your commercial property or business, decide what design you want, and then work with the questions above and a couple more to present several options to you and everyone involved.
We are happy to assist you in this decision-making process. Once you have selected the artificial turf from the shortlist that has been created based on your budget, we will then proceed with the installation as required.
We can install your artificial turf in a matter of days; larger areas may take longer. However, you can inform our team in advance if you have special events or a deadline you'd like us to meet. We are happy to work with you to create a better timeline or to provide more workers for your project.
Below is our list of additional services: