School Synthetic Turf Installation Services for Wellington Residents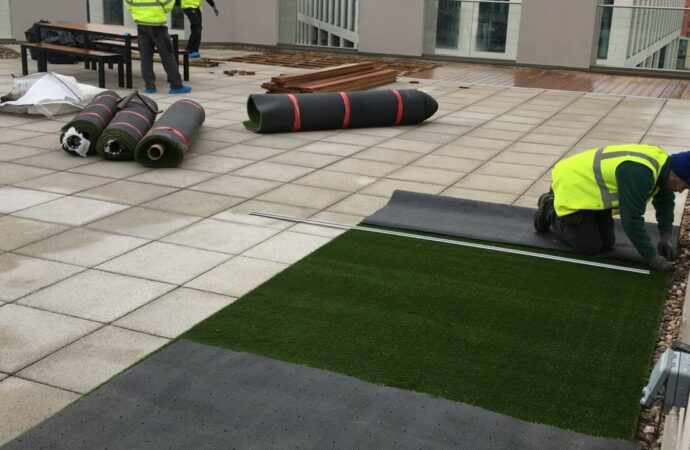 Patios and yards, just like indoor spaces, are crucial to your student's education. They allow them to connect with nature, play or practice new sports, have fun with their friends, and spend time together running, playing, and laughing. Synthetic Turf Team of Wellington is committed to providing school synthetic turf installation. This will allow you to provide a long-lasting and comfortable surface that is beautiful and complements the space where they will be. It can also turn into their favorite place at school and bring more students in the long run.
Artificial turf is a better option than natural turf. You won't need to spend as much money, and you don't have as many maintenance tasks to handle in the short and long term as it needs to be watered once or twice a month, won't need fertilizers, and you just need to keep it clean from the regular use of your students.
You will also have a surface that provides extra support for them and allows them to do different activities depending on the green area and artificial turf installed by professionals.
Our role is to help you navigate this process. We will ensure that you understand the importance and benefits of selecting the best option on the market and for the specific activities and volume of foot traffic.
Synthetic Turf Is a Solution & Aesthetical Element Altogether
It is durable, long-lasting, and resistant while also offering great looks and a soft surface that will give you everything you need for students and even visitors. Our options are manufactured with nylon or polyethylene, which are the best materials in the market that boost the artificial turf technology of today.
The fibers will resist damage by all sources, including foot traffic from children playing and students training in their sports and special events, as well as all those who will be running and walking over it during their regular activities and breaks within classes.
Natural turf and grass can't withstand all the traffic and are often damaged. You can expect to see empty spaces, holes, discolored grass, and mud everywhere when you rely on any of them.
Students aren't inclined to notice the damage they cause, so it is up to you to find a solution that will not only save money but also leave green spaces available for students every day.
Synthetic Turf Team of Wellington has a variety of artificial turf available for schools. We can also provide a list of the features that will make a difference once you have decided to go ahead and install it:
Our turf comes with a heat block, so you don't need to worry about heat or how hot it is for the surface and all students to sit on it or continue playing every day.

Synthetic turf is great for impact reduction and can be used to support students who fall, suffer minor injuries, or simply go about their day.

Our artificial turf is made from non-toxic materials. This means that allergies and other issues will not be a concern.

It can withstand a lot of foot traffic, which means it will continue to provide the same safety and support over time.

This allows for low maintenance, which saves money on water and fertilizers.

It pays for itself. Synthetic turf is a significant investment. However, it will pay off in 2 to 3 years. You will also be able to use the money and resources you invested in natural grass care in other areas of the institution.
We Help You Choose the Perfect Type of Turf for All Spaces
Artificial turf is not perfect for all spaces in your schools, at least not the same type for all the areas, fields, and patios you have available.
It is possible to pick the most durable and expensive option, but we don't recommend it. You don't need to spend more money or resources if you have many options that offer the same quality, durability, and longevity as long as they are located and installed in the right places.
We will assess your school and determine the traffic patterns in the green areas.
You may be looking to create a new field for athletics or a space that can be used as a patio. We will need as much information as you can provide so that we can choose the best product and provide you with a good design.
Our team will make sure every lawn area is properly covered. We'll also ensure that any existing green areas with natural grass or turf are left in perfect condition once we're done. Each space can take anywhere from 1 to 3 days to install. We will require a few additional days to complete your request if you want to have us cover all of your school.
We will give you the estimated timeline once we have completed the regular assessment and visited your school. We will then wait for your approval before we can work to a timeline that you prefer or accommodate any other requirements.
To open your door to our team, all you need is a phone call, an email, or a visit to the office any time of the year.
The visit to assess your property to determine the best plan of action for your school will be completely free. We won't charge any fees until the actual project begins and when you make the final decision.
This should give you a little push in finally making the decision to rely on this product. If not, you can at least understand its benefits free of charge and have our qualified professionals provide all the details and information whenever you are ready to take the step.
We encourage all schools in the city and surrounding areas to start working with artificial turf and grass, so they are not only able to offer the best to their students and save money but also contribute to the planet and reduce all unnecessary water usage.
Below is our list of additional services: