Welcome to the Synthetic Turf Team of Wellington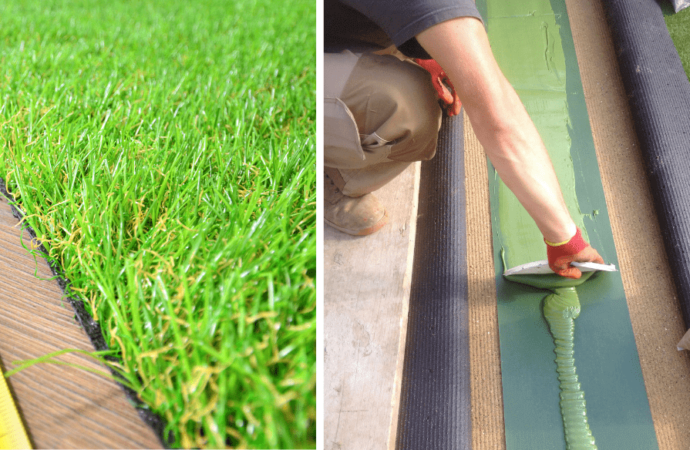 Synthetic Turf Team of Wellington is your top choice, or it should since we can handle any type of synthetic turf installation, repair, and maintenance while offering a fair price that won't affect your savings. We also have the ability to assist with various projects, areas, or spaces. We want everyone to have a beautiful green surface they can enjoy regardless of the day of the year. For it, it is necessary to have experienced professionals, high-quality products, and knowledge of what synthetic turf is all about.
Besides being able to help you with your home, we can provide assistance to work with artificial turf in schools or athletic fields, as well as your regular residence or business. Our residential synthetic turf installation service is our most popular request. However, our experts have more than five years of experience in repairing, maintaining and installing many green spaces and not only patios and gardens.
We love designing playgrounds and schools because they are easy to maintain and look great when proper grass is installed, and we work on taking care of each part of the process:
Assessing and measuring the space.

Designing the landscape or how the turf will look.

Choosing the products and materials.

Setting a budget and estimate.

Finish the installation or service.
Aren't Natural Grass & Turf Better Than Artificial?
Natural grass is loved by everyone, but not for the reasons that actually matter. The beauty and value it brings to the region are quite good, but many issues come with natural grass:
It needs to be watered frequently.

High maintenance is not an option but an obligation.

To keep the grass green, fertilizers are used often.

It is difficult to repair or cover empty areas, which are areas where the grass is dying or damaged, and you can only see the ground and sand.

It can't withstand all weather conditions and dies easily.
Synthetic grass, however, has the same aesthetics and appearance as the real thing but without the problems that come with the latter. Our products are made by reliable partners and will look exactly the same as real grass, which is an additional benefit to choosing the synthetic option over the regular one. You will also enjoy many other benefits when having our synthetic turf in place:
Reduce your water bill.

You only need to perform very little maintenance.

Eliminate fertilizers and other chemicals that are often used.

You can repair or replace damaged areas with new pieces.

It is for all weather conditions, including the rain and sun in Florida, especially in Wellington.

Additional heat block so the surface won't feel hot.

Pet-friendliness is as important as earth-friendliness, which is offered by our products.

You will be able to save money and time in the long term.

Get a return on investment.
Our team will assist you in explaining all benefits and helping you choose the right type for you since some types of grass can offer more based on your needs and how you plan to use the space where it will be installed.
Artificial Turf Is a Dream for All Green Spaces
Although many believe artificial turf cannot be used in specific areas, this is more based on needs and activities. While you can always choose to keep your natural turf or grass, having synthetic turf installed will make the environment better for everyone, and you can contribute to the planet, which brings up a benefit that everyone can obtain and help with when relying on the artificial option.
You won't need water as often and will not have to use any chemicals for maintenance. This will help you reduce water consumption and make your yard and patio safe for pets and children by not using fertilizers as well. The question is: Is it worth choosing synthetic turf for other spaces beyond houses and residential places?
Synthetic Turf Team of Wellington strongly recommends it not only because of the benefits but also because people and the general public get more outdoor time when green spaces are always available for use and are not weather-dependent in terms of how they look and their functionality.

Artificial grass can be used in all weather conditions and can be made to suit activities and foot traffic. People can enjoy a picnic outside, while companies can have employees or customers enjoy the green space. Schools will be safer thanks to the surface, training will be easier, and you will always have access to your green space at home if you choose it for your house or residential property.
The option is a dream for every green space, and all that matters is how it is installed, the quality of the turf, and how you handle the little maintenance required.
No matter how small or large your space is, we can install artificial grass in it. The only thing that will affect our delivery timeframe is the size of the area and how we have to handle the design our team will come up with for your landscape.
We believe that Wellington and the surrounding cities will choose it over the real deal—or more people will—the more the technology improves and keeps adding extra benefits that the real thing cannot even offer.
Natural grass doesn't contribute much to the planet when it's not in nature (forests, mountains, and other similar areas), where it can grow naturally and continue to thrive without any human intervention.
There Is Always the Perfect Turf for Everyone
In order to come up with the right type of artificial, the person in charge we send will need to make a first assessment. We need to measure the space and determine where we will place the turf for you, so we have a clear landscape design.
Artificial turf and grass do not all offer the same benefits and features. Artificial turf can be used in playgrounds, where children run, play, and pull it, and among the options available, some will last less in a high volume of foot traffic, while others will last longer, but they won't withstand high-impact activities. Sometimes, you may need one that offers everything.
Meanwhile, synthetic grass is meant for landscaping purposes, and its features and resistance to regular sports and high-impact activities are not close to what turf can offer you.
We first need to determine the foot traffic volume to reduce the number of options in our catalog. High-traffic areas include schools, commercial areas, and athletic fields. Patios, gardens, and yards are low to moderate in volume. Most homeowners only want a place to relax with their pets or spend time with their family, but this still entails some resistance and durability to offer for high impact, but maybe regular grass will be enough.
We need to find out if there are any future plans for green space. This will allow us to avoid having to do another round of synthetic turf installation and save you money in the short and long term. 
You might want your landscape to include some plants and flowers, but you also wish to make a portion of it a mini-golf course or put greens. We can offer alternative turf or grass to meet both of these goals if you let our team know.
We will consider your preferences and budget when recommending turf or grass that looks similar to each other or need to so the entire space is in harmony.
Design and how we use your space will also influence the recommendations our experts will give you. This is why you can expect our guidance to be provided during the first visit, when we assess the area and take the measurements, or after we have established a clear idea of what is possible and what you desire.
This is a collaborative process. We won't make decisions or prioritize what we think more than what you want. Our professionals are experts and can help you make the right decisions, but we won't impose ourselves but rather find a solution to what you want and what's best.
We Are the Most Complete & Experience Company in Wellington
Synthetic turf installation is where we begin to offer our services and assistance. However, our professionals can help with any aspect of artificial turf or grass installation and more solutions or needs.
"Are Repairs Hard to Deal With?"
This is one of the most common questions as we understand that although repairs are not that common, they are needed and feared by some. We recommend that you always seek professional help if you don't have any experience with synthetic turf or if you are new to the field.
It is not the right word to use when referring to repairs. This is not about not having the tools or experience to resolve most issues when repairs are required.
There are many ways to deal with damaged grass, whether it is torn, pulled away, or completely burned by external elements. While using a specific glue and tape can work in some cases, replacing the whole piece or coloring the grass again will require earth-friendly, non-toxic products and new parts. 
If you're not sure what yours will need, we can assess the damage and offer suggestions if necessary. We will tell you if there is a single solution to the problem or more than one.
Most repairs can be completed in a few days, depending on how many damaged areas are involved. We can usually handle the repair in a matter of hours if it's a single or few pieces. The repair may be delayed if a damaged piece is replaced with a newer one.
It is important to identify the turf used. We can either take a look at the whole area or, if you have installed it with us, know your name as well as the date.

You can choose the same turf type or a different one for performance and aesthetics.

Take a look in other areas and compare the pieces with the damaged ones to determine if they should be replaced to avoid future problems.
Most owners keep their leftovers from installation. We will use these to repair your item and save you money on buying a new one.
We always save any leftovers or leave them on your property if we worked with you previously and installed your turf or grass.
When Is Synthetic Turf or Grass Needed? We Help You Choose One
This is part of our job. If you've been following along, you'll remember that artificial turf is used for landscaping and aesthetics. Synthetic turf is used for areas with high foot traffic and high-impact activities.
If you have specific preferences, you can use either one or the other. We will tell you which one is better in the long term and give you options.
However, we have dealt with clients who wanted grass in areas where the turf would be more suitable. They also preferred the aesthetics and functionality of artificial grass over synthetic turf. We respect this preference but will give some warnings and recommendations about how the green space will be affected by any activities or events that take place.
Our products come with a 10- to 15-year warranty. However, if it's not the right product for your space or our professional recommendation is not the best, we will offer a limited warranty or assess the damage based on the product.
We want to emphasize this, but it does not mean you will lose your warranty. We will make sure you understand all details and explain why artificial turf or grass will be required for your project.

Can Synthetic Turf and Grass be Installed in the Same Place?
Not over one another, but it is possible in the same area. This is often required when the work site is large, and the different areas are used for different activities, or the foot traffic in one area is lower than in the other.
It is important to have a first visit and an assessment. The more information you provide, the better we can serve you and create a design.
We have done simultaneous installation of grass and turf in the same area. The most common situation is at schools, where the turf does not really require grass. However, artificial grass would work well in gardens and other spaces.
Most clients worry about the possibility of losing harmony in their appearance.
We can find the right balance between functionality, performance, and looks, thanks to the large variety of turf and grass we keep in stock. You won't lose harmony, but you will have an even space.
Because it is often used to indicate if there are multiple types of grass in one area, the primary focus should be on the color. We will then focus on the type of grass, as it can vary for all turf. We'll choose the best option that can either be customized or installed the way it is, so you don't know the difference.
It is not an easy task, but it is possible. We ask that you be specific about your reasons for wanting this. This will allow Synthetic Turf Team of Wellington to choose the best options and create a design.
It will be difficult to satisfy you if it is not. While harmony and perfect mixture are our constant goals, we are concerned about your satisfaction with functionality, durability, and longevity.
Remember to also keep in mind that the turf and grass you use may not be suitable for your needs.
If you have any questions, don't hesitate to contact us. We are available to assist you with any project or service, so feel free to call, email, or visit us anytime.
How You Can Get in Touch with Us
Make sure to go over the details with our team, and whenever you need to find more information, you're welcome to call, email us, or visit our building for more. We are happy to offer a free assessment as needed for any of our services.
We offer a wide variety of options, so don't feel pushed to go over the specific project right away or hire us for it at once.
Below is our list of additional services: