Playground Synthetic Turf Installation Services for Wellington Residents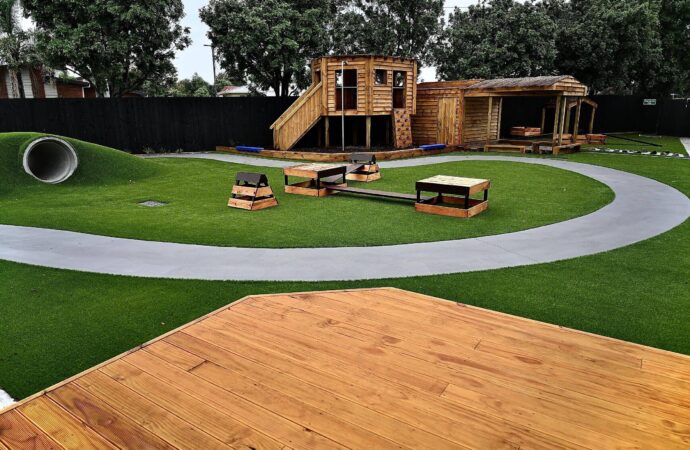 Your children should be safe when you decide to have a playground for them or when you make the decision to take them to one every other day. In fact, how safe and protected they are while playing doesn't depend on how you use the space most of the time or on your own playground at home. Part of having a safe one is relying on playground synthetic turf installation services, which companies and entities that are responsible for ensuring safety should hire. Since our company Synthetic Turf Team of Wellington was founded, we have worked hard to ensure the highest quality products, so children don't get hurt in falls or other accidents.
There are many options for playgrounds. However, not all offer safety and great looks altogether. The beauty about them whatsoever is that you can forget about the high maintenance that real turf requires if synthetic turf is chosen for the space.
It is possible to save time and money on maintenance if you are worried about how much goes into this, all while ensuring all children can play and parents feel more relaxed, allowing their children to use the equipment and the whole space.
What Is the Best Synthetic Turf for Playgrounds?
Everything depends on variables since playgrounds are not designed for kids of all ages, and some equipment can bring falls from higher heights or represent higher risks depending on how it was designed and whom it is meant for. This is why choosing the right turf comes with all these details:
The foot traffic volume.

Type of equipment to be installed.

Age range (children that will be allowed in the area).

If pets are allowed in certain parts of the playground.

How big the playground is and how much time it will need to be maintained.
When choosing synthetic turf for this space, it's not about selecting the best one on the market. It is important to consider all your requirements as well as what you can afford.
Synthetic Turf Team of Wellington has many playground options. You can choose from artificial turf that looks natural and offers less support, others that are the opposite, and some that provide safety and aesthetics at the same time.
It is important to evaluate your space and take measurements so we can determine the right turf along with the information you provided us and additional details you would want to add, such as your budget and how you're trying to handle this project with our assistance.
We care about your willingness to invest in this project, and we can assure you that you won't regret making the decision. All of our artificial turf playground options include the most important aspects of heat block and impact reduction.
This will ensure that everyone on the playground is safe and that any harm they might have been minimized.
If you are looking for something more customized to meet your requirements and expectations, get in touch with us. We will work quickly and provide a detailed design of your playground and alternatives.
Can Synthetic Turf Get Easily Damaged?
Under regular circumstances, it won't be easily damaged. 
It is not easy to damage artificial turf, contrary to common belief. As long as the right option exists and is ready to perform well based on the activities that take place in the area, it is very difficult to do so.
Synthetic turf is durable and long-lasting because of how it is manufactured, and although the quality of the materials used influences it, it shouldn't be damaged without effort.
Ours is made with nylon fibers or polyethylene fibers, which will prevent burnt areas and missing parts. They also offer a clean appearance and provide support and safety.

Children who love to tear out the turf will find it difficult. Artificial turf isn't easy to pull or tear, and it won't be obvious unless six to eight years have passed.
Our synthetic turf is weather-resistant and can withstand rain, snow, sun, and any natural disasters that may strike the area. There are very few exceptions, and for the usual problem of heat, this won't be an issue.
Our job is to make sure your turf lasts for many years without needing repairs. When we install new turf for you, we will give you some tips for maintaining it softly, smoothly, and shining like the original day.
However, you don't need to maintain the surface often. You will be able to maintain a safe and beautiful playground surface for all children and their parents.
If you are unable or unwilling to repair damaged pieces or parts, we will be happy to assist with any small repairs. We are confident that this will not be necessary, even though your playground is a popular one in the city.
Contact Us to Request Playground Synthetic Turf Installation
It takes only a phone call, an email, or a visit to our facilities. We are always available and ready to assist you in any way possible.
You should now have a clear understanding of our approach and the things we can do for you. To give you a quick overview, here is what you get with our service:
Assessment of your playground or space where the turf will be installed or needed.

Professionals will design your area.

Based on your requirements, the perfect turf for safety or aesthetics.

Before we begin work on the installation, we will provide you with an estimate.
Call us during business hours to let our team know what you need. We offer many services, so please let us know what you require for your particular playground or if you're looking for a different solution.
Below is our list of additional services: